Our vinyl & printed signs are very affordable! They include window, truck,& banner lettering, as well as real estate, construction site, & yard signs.
High Defination Full color printed banners & corrugated plastic are the wave of the future. Extreme low cost and full artistic control make them the best option
for many sign needs & they can be produced as fast as a 2 days!!!
Looking for a very long lasting, great looking, & low cost sign? Ask us about an aluminum laminate sign for your business.
Vinyl & Printed Signs

Vinyl Signs, Printed Signs, Banners & Labels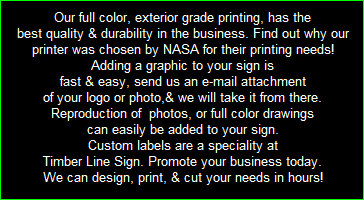 Baked Enamel Aluminum Signs will not rot, crack, or loose paint.
We also have Custom Made Calenders !
(262)-245-9898